I haven't participated in Five Question Friday for a while.  I needed a little brain break and the weather is just plain crummy today.  I saw the fabulous Carrie with Children linking up and decided maybe today is a good day to get back into the Five Question Friday groove.
What are your plans this weekend?  I think we're working on getting the house ready for our move this summer.  We have so much to do and the time is ticking away!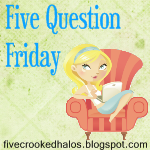 1. Are you looking forward to the time change this weekend?
I know there are a ton of people dreading the time change, and I guess a small part of me is as well-it's harder to get the kids in bed when it's light outside.  BUT, longer days means being able to go outside when TH gets home from work.  It means dinners on the back patio. It means warmer days are around the corner.  I'm ok with that.
2. Are you getting the new iPad/would you want a iPad?
The only way I'm getting a new iPad is if I win the lottery.  And to win the lottery, I'd actually have to play the lottery.  Do I want an iPad?  Dear heavens yes.  Very much so.  But, I'll live without one.
3. If money was not a problem, what is the one thing you would splurge on?
I would probably splurge on an Adventures by Disney trip or Disney cruise or trip to Disneyland.  I love traveling and I'd rather splurge on experiences than on an object.
4. How did you and the Mr. meet?
In a casino.  True story.  Bally's Wild Wild West Casino in Atlantic City no less. We were introduced by mutual friends.  I still maintain they set us up, although everyone denies involvement.  And, if you're wondering, no, we didn't use the "Lucky in Love" theme or get married on 7-7-7.  
5. Summer is right around the corner. Bikini or one-piece?
I wore a one-piece last year.  I'm determined to rock a bikini this year.  I'm so determined that I'm letting Jillian Michaels kick my ass for 30 days.  I started "Ripped in 30″ this week and it hurts so good.  I won't lie, I'm terrified of moving out of the Week One segment.  Oh well, no pain, no gain, right?
Have a great weekend, y'all!!